Learn Trading with Income Mentor Box
If you are an aspiring trader who needs to learn everything there is to know for success, Income Mentor Box is the place to be. This is one of the most reputable trading schools in the world, and it includes everything you need to become a pro. Let's take a look at the Income Mentor Box Day Trading Academy to find out what it's all about.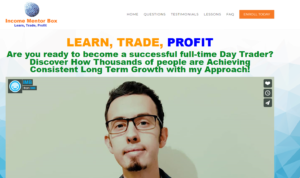 A Fully Comprehensive Curriculum
One thing that needs to be said about the Income Mentor Box Day Trading Academy is that it features one of the most comprehensive curriculums that you could possibly learn from. In total, there are 5 modules, each of which have roughly 11 full length lessons, for a total of 55 lessons.
Make no mistake about it, because these are not some short 5 minute tutorial videos that provide you with some footnotes and key takeaways. No, these are full length lessons, with each of them lasting for up to 40 minutes.
Each Income Mentor Box Day Trading Academy lesson focuses on a very specific aspect of trading. It allows you to learn everything there is to know about a specific aspect, and then you can move onto the next lesson.
You will learn all about trading timing, the basics and fundamentals, terminology, entry and exit points, charts, graphs, oscillators, indicators, and everything in between. Simply put, if you are looking for a full scale education in trading, this is the place to be.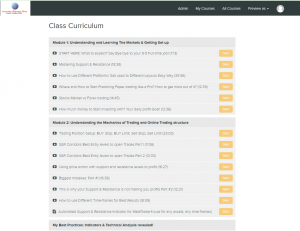 Income Mentor Box Has a Real Leader
The next thing worth mentioning about the Income Mentor Box Day Trading Academy is the fact that it has a real leader. Sure, there are many other Forex and stocks trading schools out there, but most of them use either paid actors to play the role of a teacher, or the teacher is just not that knowledgeable.
Well, this is not the case here, because the leader of Income Mentor Box, the man whom you will learn everything from, is named Andrew Arm. Andrew might not be into fast sportscars, and he may be relatively young.
However, even at his young age, he has been day trading for about a decade now, and he has seen great success. What's more, he has made all of the mistakes that a newbie trader could possibly make. Therefore, he can teach you how to avoid those mistakes. We do really like Andrew, because although he is a true trading professional and expert, he is not some self-proclaimed guru. He's a down to earth kind of guy that people really enjoy learning from.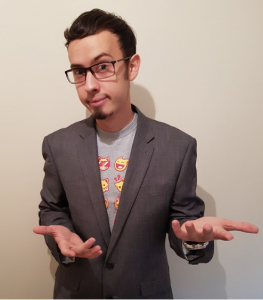 It's Easy to Understand
Another great aspect of the Income Mentor Box Day Trading Academy is the fact that it is designed specifically for beginners. It is made for people who have minimal or absolutely no prior trading experience.
This is important to note, because many trading courses are designed for people who already have a knowledge base. Well, courses like that are totally useless for newbies. If you have never traded or taken a trading course before, you need to start from the ground up, and you need the content to be easy to grasp.
This is exactly what the Income Mentor Box Day Trading Academy provides you with, easy to understand and simple to grasp information that even a 10 year old child could master. While this course will teach you everything you need to know to be a successful Forex and stocks trader, it is taught in a way that makes it both fun and easy to learn.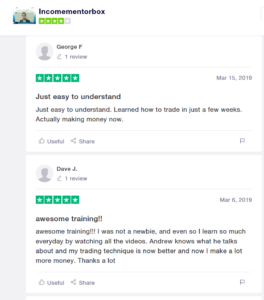 You Can Take Your Time
Next, what many people really love about the IMB Day Trading Academy is how you can take your time to work through the course. This is unlike many other courses and schools out there which reduce your learning to a certain time limit.
Some may only provide you with access to their materials for a few months or even just a few weeks. This may be ok for people who are super quick on the uptake, but it's a disaster for people who need to take their time.
Well, with Income Mentor Box, once you become a member, you will have unlimited and lifetime access to all course content. You can choose to take 2 weeks, 2 months, or even 2 years to work your way through it. It's all about learning at the pace that suits you best.
Income Mentor Box is Reasonably Priced
Perhaps one of the most important aspects of the IMB Academy is the fact that you don't have to pay an arm and a leg just to learn about day trading. There are trading courses out there that cost thousands of dollars, and they really don't provide you with more useful info than Income Mentor Box.
The IMB Day Trading Academy costs only $299 to join. This is a much more reasonable and lower price than virtually any other Forex and stocks trading course out there. This is a day trading school that wants to help you learn how to trade, not to gouge you for every penny in your bank account.
You Get Free Forex Signals
Something else that you might really like about the IMB Day Trading Academy is how you get so much more than just an education. With IMB, you also get access to a great Forex signals service.
These Forex signals come complete with entry points, exit points, stop loss levels, and take profit levels too. All you have to do is take the signal as they appear and when they appear, and then copy and paste them into your broker or trading platform of choice. It's a really easy way to make quick money in a reliable manner.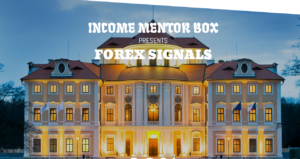 Learning to Trade with Income Mentor Box
The bottom line is that the Income Mentor Box Day Trading Academy is by far the best place for aspiring traders to learn everything there is to know in order to be successful. Of course, IMB provides you with the knowledge and skills to trade Forex, stocks, and more, but the rest is up to you.
CLICK BELOW TO JOIN INCOME MENTOR BOX AND START MAKING REAL PROFITS!