24Option Review – A Great Broker!
When it comes to trading, 24Option is one of the most highly trusted brokers out there. Whether it be for trading stocks, commodities, Forex, indices, or commodities, 24Option can do it all. Yes, there is a lot of concern out there about scam brokers, but this is certainly not one of them. We are here today doing this 24Option review to provide you with all of the information you need to get started with trading.

24Option Company Information
24Option is indeed a fully legit, licensed, and registered broker. There is nothing shady going on here. First off, this particular broker came into existence back in 2008, which means that it has been operational for over 10 years now. It is a good sign which indicates that it is the real deal. It certainly passes the test of longevity. As of 2016, this broker expanded its operational capacities and became a full Forex, stock, CFD, and commodities broker. In others words, with this broker, you can trade pretty much any kind of asset out there, which now even includes crypto.
The 24Option company is owned by Richfield Capital Limited, located at Unit 303, No. 16 Cor. Huston and Eyre Street, Blake Building, Belize City, Belize. It is authorized by regulated by the International Financial Services Commission of Belize with license number IFSC/60/440/TS/18. 
If you were wondering about regulation, 24Option is regulated by a large amount of regulatory bodies. This includes CySEC, FMA, AFM, HELLENIC, BDF, BAFIN, the FCA, and more. The main point that we are making here is that 24Option is undoubtedly a totally legit and trustworthy company, one that has real headquarters and is indeed regulated by a plethora of regulatory agencies. This is the real deal, a trustworthy broker, not just another scam.
24Option & Trading Platforms
24Option used to use TechFinancials, a fairly popular trading platform, but this has changed recently. Scipio is now the main proprietary trading platform used here for Forex and CFD trading.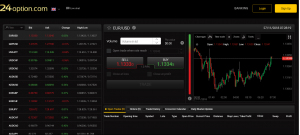 MetaTrader 4
Moreover, for any users who want to engage in many types of full time trading, the MetaTrader 4 Platform is also available for use, which is particularly good for Forex and CFD trading. MetaTrader 4 has some really advanced trading tools integrated into it, something which most can definitely appreciate. So, Scipio is really traditional and easy to use, wheresas MetaTrader 4 is a bit more complex, but it also comes with many more features and high caliber analysis tools.
Mobile Trading
Don't worry guys, because 24Option can also be used on your mobile devices. You don't have to be at your computer to use it. The 24Option broker has a totally free mobile trading app which works with both iOS and Android devices. The apps are specialized to work well on each operating system, they are easy to use, very slick, and fully responsive too. Sure, it might be harder to perform technical analysis on a really small screen, but the free 24Option mobile app helps make it as easy as possible.
24Option Account Levels
The 24Option broker comes with a total of 5 different account packages. These range from a basic account for beginners who are just getting into trading, all the way to a Diamond account for professionals that can't get enough of Forex, stock, and CFD trading. Let's take a look at the various customer account choices available to you here.
Basic 
The basic account requires a minimum deposit of 250 GBP or EUR. Here you get access to the MT4 trading platform, the company's web client platform, the mobile app, and 24/7 customer service. Here you get exotic currency pair spreads with pips as low as 7 with major currency pairs with pips as low as 3, plus spreads in minor currency pairs with pips as low as 4.
Silver 
With the silver account, you get all of the features of the basic account, plus you also get trading alerts and a personal trading coach. The minimum deposit for the 24Option silver account is 2,000 GBP or EUR.
Gold 
The 24Option Gold trading account comes with all of the features which you get with the silver account. Here you also get text and email trading alerts, plus you get an extra 2% return on every trade made. The minimum deposit for the gold account is 25,000 EUR or GBP.
Platinum 
The platinum account comes with all of the features of the Gold account, plus you also get access to a research website for analysis, as well as a live training session. Here you get an addition 4% of returns on trades. The minimum deposit for the platinum account is 50,000 EUR or GBP.
Diamond 
The diamond account is a bit of a mystery, because it is so high class, that there is no specified minimum deposit. You actually have to set up a 24Option diamond account with an account manager. Besides all of the features of the platinum account, you also get a customizable trading platform and free season tickets to Juventus FC football matches.

24Option Broker – Other Information
24Option customer service is available 24/7 via live chat or email, plus it has telephone support in 12 countries.

The proprietary trading platform is available for use in 24 languages.

24Option offers tons of different trading educational materials including live seminars, webinars, daily market news and updates, interactive Ebooks, and a couple of other educational resources too.

24Option Broker Review – Conclusion
When all is said and done, the 24Option broker is one of the most popular and reliable in the world. It has literally hundreds of thousands of satisfied users. It comes with a great trading platform, plus lots of awesome educational materials too. Here you can get an account which suits your level of expertise of trading the best. When it comes down to it, we have to say that this is probably the best broker for most of your trading needs.
Thank you very much for reading this detailed  review. Subscribe to our blog in order to be fully protected and to be up to date with all binary options services out there. Additionally please share and follow us on Facebook, Twitter, Google+ and Pinterest. See you next time!