Coinbase Cryptocurrency Exchange Review
Yes, there are plenty of cryptocurrency exchanges and brokers out there, and Coinbase is said to be one of the best ones. However, the selection is so huge that finding the right one for you can be a nightmare. You always need to pay attention to what kinds of crypto coins can be traded, the fees, accepted countries, accepted payment methods, and services offered.
Indeed, when it comes to selecting the right crypto broker or exchange, there is a whole lot to look out for. Now, with that being said, there is a reason why we are here doing this Coinbase review, and it's not to shut it down. In fact, from all of our trading experience, it is clear that Coinbase is one of the very best, most reputable and reliable, and user friendly cryptocurrency exchanges in the world.
Today we are here to provide you with the most important facts and details about this particular exchange. The point is to help you decide which of the online brokers is best for you, and hopeful to give you a little nudge in the right direction too.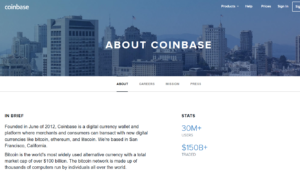 Services Offered by Coinbase
Perhaps one of the most important things you need to know about the Coinbase exchange is what kind of services are offered. Let's make it clear that this exchange offers a fairly wide array of services, ones designed for beginner traders and seasoned professionals alike. Let's take a look at the various services offered by this world class crypto exchange.
Brokerage
The first and most popular service offered by this exchange is the cryptocurrency brokerage. This is an online brokerage which allows you sell and buy a variety of cryptocurrencies. The fees here are moderate, the selection of coins is vast, and the interface is designed so that everybody and anybody can buy cryptocurrencies with ease.
Coinbase Pro Platform
Another cool service offered by this exchange is the pro trading platform. Now, this Coinbase Pro platform is designed for more seasoned trading veterans, for people who really know what they are doing. The fees here are a bit higher than with the basic brokerage, but the big difference is that the pro platform comes complete with a plethora of features designed for pros.
The Crypto Wallet
Yes, this exchange does also offer a cryptocurrency wallet to store all of your coins. This is a mobile wallet designed for use with Android and iOS. This crypto wallet is relatively new, but it is highly trusted. All keys and info are stored on your device, making it an extremely safe coin storage option.
Merchant Services
Coinbase also offers merchant solutions, which means that online companies and retailers can no set up payment gateways which accept Bitcoin and other crypto coins as forms of payment.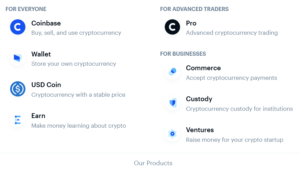 Coinbase Currencies To Buy & Sell
Coinbase is a pretty diverse exchange with lots of options to choose from. It is in fact one of the most selection friendly exchanges out there, allowing you to buy, sell, and trade dozens of different coins. Below is a list of the most popular cryptocurrencies which this exchange allows you to work with.
Bitcoin

Ethereum

Ripple

Litecoin

Bitcoin Cash

EOS

Stellar Lumens

Ethereum Classic

Zcash

Augor

Dai

USD Coin

0x

Basic Attention Token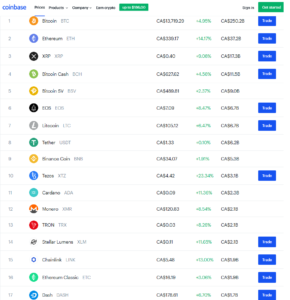 Coinbase Fees & Accepted Payment Methods
Seeing as nothing in this world is free, you will need to pay for your cryptocurrencies. There are of course also some fees for trades and transactions. What we have to say about fees here is that they are moderate, not the lowest but also not the highest out there, and yes, there are plenty of accepted payment methods too.
Accepted Payment Methods
Credit Card

Debit Card

Wire Transfer

PayPal (Withdrawal Only)
Fees
There is a flat transaction fee on transactions under $200. This is usually 1.49%, but for credit card buys may be as high as 3.99%.

Coinbase Pro has a market price of +0.5%.

ACH transfer does not cost money when depositing, but all other deposits cost $10.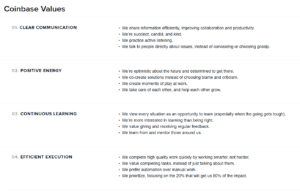 Coinbase is Available in These Countries
An unfortunate reality is that while there are plenty of quality crypto exchanges out there, many of them only operate in a select few countries. This is indeed unfortunate, but it is definitely not the case when it comes to Coinbase. This particular crypto exchange, broker, and trading platform is in fact available in the majority of countries on planet earth. Below is a list of the countries accepted here.
Angola

Benin

Botswana

Cameroon

Ghana

Kenya

Mauritius

Namibia

Rwanda

South Africa

Tunisia

Uganda

Zambia

Armenia

Bahrain

Brunei

Hong Kong

India

Indonesia

Jordan

Kazakhstan

South Korea

Kuwait

Kyrgyzstan

Macao

Maldives

Mongolia

Nepal

Oman

Philippines

Singapore

Taiwan

Uzbekistan

Australia

New Zealand

Andorra

Austria

Belgium

Austria

Bulgaria

Croatia

Cyprus

Czech Republic

Denmark

Estonia

Finland

France

Gibraltar

Greece

Guernsey

Hungary

Ireland

Iceland

Isle of Man

Italy

Latvia

Lichtenstein

Lithuania

Luxembourg

Malta

Monaco

Montenegro

Netherlands

Norway

Poland

Romania

Portugal

San Marino

Slovakia

Serbia

Slovenia

Spain

Sweden

Switzerland

Turkey

United Kingdom

Aruba

Barbados

Bahamas

Bermuda

Canada

Cayman Islands

Costa Rica

Curacao

Dominican Republic

El Salvador

Guatemala

Honduras

Jamaica

Mexico

Nicaragua

Panama

Trinidad and Tobago

United States

British Virgin Islands

Argentina

Brazil

Chile

Colombia

Ecuador

Paraguay

Uruguay

Peru
CLICK BELOW TO JOIN INCOME MENTOR BOX AND START MAKING REAL PROFITS! 
Coinbase Review – Conclusion
When all has been said and done, it is crystal clear that the Coinbase exchange is simply one of the very best in the world. Although the fees are not rock bottom, they are more than low enough to be acceptable. Besides, you always get what you pay for, and here you get exceedingly great service for a moderate cost.
The fact of the matter is that the majority of the world's countries are accepted here, the selection of trading coins is great, and there are various payment methods too. That, combined with the fact that this exchange offers services for all skill levels and types of traders out there, makes it the exchange of choice.
CLICK ON BANNER BELOW TO SIGN UP FOR COINBASE