Profiting With The Economic Calendar
Something we always stress when trading, whether Forex, CFD, or stocks, is that you always need to check the economic calendar. For those of you who don't know, the economic calendar is one of the most crucial and useful resources in your day trading tool kit. Today we are going to talk about how you can profit through trading with the economic calendar. There is more to it than you might think, something that you will learn here at the Income Mentor Box Day Trading Academy.
What Is The Economic Calendar?
The economic calendar is a schedule of sorts, one which informs stock and currency traders of important developments in the market. Technically speaking, the economic calendar shows scheduled press events, news releases, and data releases which may affect the market. There are very many of these data releases that happen every single day, usually multiple ones per day. Each of these events is graded, usually on a scale of 1 to 3.
Each event has a grade in terms of how big its effect is expected to be for the market, especially in terms of the values of stocks and currencies. This is a very important thing to keep your eye on. Each day, before you start trading, you need to check the economic calendar for these data releases, as they all have significant influences on how you will trade that day.
The Economic Calendar – Risk, Volatility, & 3 Bull News
As we mentioned before, all of these press, event, and data releases are graded using numerical or color codes. This can be green, yellow, and red, 1, 2, or 3, or as investing.com displays it, their news releases are graded as 1, 2, or 3 Bull news. You might have heard us here at Income Mentor Box talking about 3 bull news before. Well, green and yellow, or 1 and 2, are OK. You can still trade with these news releases, but 3 Bull News is what you really want to look out for.
When there are 3 Bull News releases scheduled, it means that they will affect the market in a really big way. These news releases, which you can find on the economic calendar, can cause major swings in currency and stock market values. Therefore, you need to keep a close eye on this. We would recommend using the economic calendar on investing.com.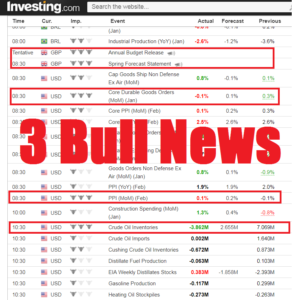 Make sure to set it to your own time zone, as looking at the wrong time zone can be disastrous. You need to look out for 3 Bull News. Generally speaking, most traders will close all Forex and stock positions about 5 minutes before 3 Bull News is set to be released. When these releases happen, you don't know how the market will react, what degree of risk it creates, and in which value direction assets will go.
Therefore, it is recommended that day traders do not open any trading positions, Forex, stock, or otherwise, until a few minutes have passed since the last release of 3 Bull News. This will help you avoid very risky trading situations and high levels of volatility. 3 Bull News releases are highly unpredictable, and you should stave off of trading until they have passed.
Your Checklist – How To Use The Economic Calendar
When you are looking at your economic calendar, there are a few important things you need to look for. If you use the economic calendar to keep an eye on these various factors, your chances of making profits through Forex and stock trading greatly increase. Just in case you want to trade stocks, check out these big time cannabis stocks that have huge profit potential right now.
What time is the economic news being released? Remember, close your trading positions at least 5 minutes before an important news release (3 Bull News), and wait for a few minutes to open a position after the news has passed.
What is the standard interpretation of the economic news? Is the value of a certain asset set to go up or down? While this is a good way to gauge what kind of trading positions you should open, you should still wait until well after the 3 Bull News has been released.
How important is the economic news release coming out? On the scale of 1 to 3, where is it ranked? The higher it is ranked in importance, with 3 Bull News being the most important, the greater its overall effect will be on the market.
Which Indicators Influence The Economic Calendar?
What you should also know is what kind of indicators are used and which ones are utilized to determine the news releases and their degree of importance. The following are all factors taken into account when it comes to the economic calendar.
GDP reports

Housing starts

Industrial production

Producer price index

PMI

Consumer confidence index

Consumer credit report

CPI inflation rate

Durable goods

Employment reports

Existing home sales

Factory orders

Jobless claims

Trade balance

Retail data
Our Live Economic Calendar Trading Session
If you have already watched the video which we have included here, courtesy of our own Andrew from Income Mentor Box, you know that trading using nothing else other than the economic calendar can indeed be very profitable. As Andrew notes in the live trading sessions, if you use the economic calendar right, you can use it to place trades without any other strategies being used.
As you can see from the live trading video, Andrew from Income Mentor Box used it to place a total of 4 Forex trades, all 4 of which turned out to be winners, generating around 1,300 Euros in profits. Guys, Andrew used nothing else but the Economic Calendar to win 4 trades and 1,300 Euros in just about 1 hour of trading. If you follow our tips and use this resource to its fullest, there is no reason why you cannot do the same.

https://www.youtube.com/watch?v=rmqlSdUFOxM
Trading With The Economic Calendar – Final Thoughts
The bottom line is that you never want to trade without first consulting the economic calendar. It is a resource that you should never ever forget to use. Remember folks, our Income Mentor Box Day Trading Academy is all about turning you into a day trading professional. For one very low fee, you get access to a multitude of course materials. This includes over 50 day trading lessons hosted by none other than Andrew himself, a free EBook, a group chat, and more. We even have a free Income Mentor Box signals service which you can use to copy trading signals to make quick and easy profits!