Top 10 Forex Trading Tips
When it comes to trading FX, it's not quite as easy as some people make it out to be. As a newbie, there are quite a few things that you need to learn in order to be successful when trading currency pairs. This is not something that you can just wake up and do one day because you feel like it. It takes the right skills and knowledge to trade FX successfully. Well, today we are here to provide you with some great Forex trading tips.
Today, we are going to talk about the top 10 Forex trading tips that you as a newbie need to keep in mind if you plan on being a successful trader. Now, today we do not want to go over specific strategies or anything like that. These are more general Forex trading tips for newbies, things that you need to know right from the beginning. Let's get right to it and help turn you into a more successful FX trading powerhouse!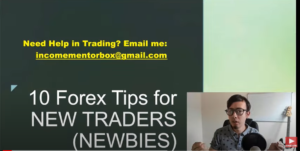 Top Forex Trading Tips
Alright, so below we want to cover the 10 most essential Forex trading tips that you need to keep in mind at all times. Keep in mind that some of these are combination tips, so you won't actually see tips all the way to #10, as some of these tips are a 2 in 1 kind of thing. You will see what we mean. Let's get to it.
Trading without Researching
One of the biggest mistakes that many newbies make is to start trading with a random broker right away, and using real money too. Folks, the fact of the matter is that there are so many brokers out there, and not all of them are good. Don't just choose a random broker. Do some research to find out what the best brokers are and what they have to offer you.
Moreover, don't start trading with real money until you know what you are doing. There is no point in trading with real money if you are just going to lose it. Therefore, one of the most important Forex trading tips for newbies is to start with a demo account where you can trade with fake money, just until you get the hang of it. You want to get a good few weeks of practice in first.
Understanding Accounts, Spreads, & Commissions
Another one of the biggest Forex trading tips for newbies out there, and yes, this is a two part tip, is that you need to understand different account levels, and yes, this then means also understanding spreads and commissions. First off, what you need to realize is that there are different account levels for different types of traders.
Lower account levels often allow for lower lot sizes, less trading, they have bad spreads, and high commissions. The more serious you are about Forex trading, and the more experience you have, the better of an account you want to open with a broker. Of course, high commissions are bad because you end up paying a lot of money for every trade you place. Moreover, you also want to look for good spreads.
Having a Solid Plan
Perhaps one of the worst things that you as a new Forex trader can do is to start trading without having a plan. Yes, having a plan means that you need to be familiar with charts, terminology, spreads, indicators and more. However, the biggest Forex trading tip to gleam here is that you absolutely cannot trade blindly. This is the worst thing that you can do.
You need to know what you are going to trade, when to trade it, and how you are going to go about it, or in other words, what kind of trading strategy you will employ. Part 2 of this tip involves finding a good exit strategy. Of course, making money in Forex is all about when you exit a trade, so an exit plan is a must have.
Determining Your Risk Tolerance
When it comes to the best Forex trading tips around, one of the best ones out there might be this one, that you need to determine your own tolerance of risk, and you then also need to protect yourself. Simply put, you need to know how much to invest per trade, and how many trades you should place per day. This is particularly important if you have a small trading account.
If you visit the official Income Mentor Box website, you will actually get a free eBook which discusses how to determine what your risk level is. The main point here is that you need to gauge the level of risk vs the potential reward, and if you can afford to risk XX amount of money.
This is all about protecting yourself and protecting your account balance. When it comes to protecting yourself from losses and unnecessary risks, make sure to have a solid trading strategy and don't forget to set those stop losses either.
Emotions & Patience
In terms of the best Forex trading tips, something else to keep in mind here is that trading is all about just that, your mind, not your heart. If you trade with your heart and you let emotions cloud your judgement, things are not going to go well for you, not at all.
Emotional traders are risky traders, and risky traders are prone to losing money. Folks, it's all about being patient, sticking to your strategy, and executing positions when the time is right. Don't let your anger or frustration get the better of you. Keep a level head, stick to your strategy, and wait for the opportune time to strike.
Best Forex Trading Tips – Final Thoughts
We hope that our Forex trading tips can help you improve your results. If you want to learn more about Forex trading, visit Andrew's Trading Channel on YouTube. Even better, if you want a full scale education, check out the Income Mentor Box Day Trading Academy.
CLICK BELOW TO JOIN INCOME MENTOR BOX AND START MAKING REAL PROFITS!