The Stormgain Crypto Broker Review
Something that you might know is that cryptocurrency trading can be extremely profitable, which Stormgain knows all too well. Now, although trading crypto can be extremely profitable, it's also not easy. In order to be successful in the world of crypto trading, you need to have the right know-how, skills, time, and the right tools too. The simple reality is that if you do not know what you are doing, then you are going to lose all of your money.
Moreover, when you exchange and trade with cryptocurrencies, you also need a good place to store those crypto coins, a secure place that no one but you can access. Well, this is where the Stormgain crypto broker comes into play. Stormgain is truly an all in one solution for all of your crypto trading needs. It's an all in one platform that takes care of all of your crypto exchange, trading, and storage needs, not to mention that it is a very high quality signals provider too.
When it comes down to it, thanks to the trading signals, the easy to navigate platform, and the crypto wallet, this particular cryptocurrency broker is really all you need to be successful in the world of cryptocurrency trading. Right now, we are here to do this Stormgain crypto broker review to figure out what exactly it can do for your cryptocurrency trading game.

Buying & Exchanging Cryptocurrencies
One of the main functions that this particular cryptocurrency broker serves is that it allows all people to buy and exchange cryptocurrencies. It's really cool because you can buy virtually any cryptocurrency out there with your credit card, and you can do so at market value. This way, you can stock up on those cryptocurrencies that are set to increase in value over the coming time. In other words, this Stormgain broker allows you to very easily purchase and invest in an extremely wide variety of cryptocurrencies.
At the same time, this broker also acts as a crypto exchange, where you can exchange or trade cryptocurrencies against each other. In this sense, it is almost like Forex trading in the sense that you are trading with two cryptocurrencies and predicting which one will increase or decrease in value compared to the other.
If you plan on making a lot of money in the world of cryptocurrencies, then this purchasing and exchange feature which the Stormgain broker offers is definitely something worth checking out. When it comes down to it, this is in fact one of the very best cryptocurrency trading platforms out there. It's accurate, easy to use, and priced very fairly too.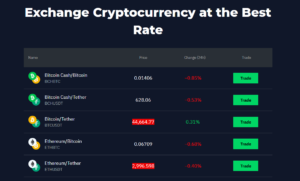 Stormgain Crypto Signals
Ok, so one of the very best features of this Stormgain broker is the fact that it also serves as a very high quality signals provider. Folks, if you don't know how to trade cryptocurrencies, you don't know how to use indicators, or you just don't have the time required to trade full time, then this signals service is dedfinitely something you want to check out.
The signals provided by Stormgain are as accurate and up to date as humanly possible, with trading signals being constantly updated and corrected based on the asset's price, so you never have to worry about out of date signals.
What's also important to note is that all cryptocurrency signals provided by this service come complete with stop loss and take profit levels, so you really don't have to do any hard work at all. All you need to do is to wait for the crypto signals to appear to you within the platform, see what the indicated stop loss and take profit levels are, and then execute the trade.
When it comes down to it, Stormgain crypto signals can make it really easy to make consistent profits, because it literally spoon feeds you and holds your hand throughout the entire process. At the end of the day, in order to make profits with these crypto signals, you really don't have to know the first thing about cryptocurrency trading.
Keep in mind that you can also get an extended version of this signals service on Telegram. Of course, the Stormgain trading platform can be used without the crypto signals, or in other words, you can use it as a manual trading tool, but that said, the cryptocurrency signals do obviously make life a whole lot easier, and much more profitable too.
Stormgain Crypto Wallet
Perhaps one of the most convenient aspects of this Stormgain broker is that it also comes complete with a multi-cryptocurrency wallet where you can store all of your cryptocurrencies in one secure location. These crypto wallets let you hodl, exchange, and transfer your crypto coins at will, you have 24/7 access to your wallet across the world, this Stormgain wallet is 100% free, and it comes complete with top of the line and state of the art security measures. This is a totally safe way to store your crypto coins so you never have to worry about them being stolen or disappearing.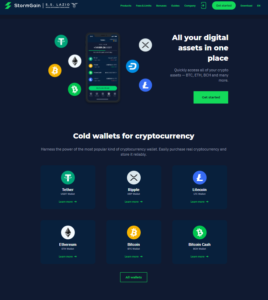 Free Bitcoin Mining
Now, one of the absolute coolest things about this Stormgain broker is the fact that it also comes complete with a free Bitcoin mining feature. All you have to do is to sign up for and create an account with this broker, and then activate the totally free mining for Bitcoin.
You don't need any special equipment, and you don't even have to worry about draining batteries. In terms of how much Bitcoin it can mine, you can make up to 0.0318 BTC per day, which is a whole lot. The system here is actually quite cool, because the more crypto you trade and exchange, the faster the Bitcoin will mine. It's an easy way to make free money on the side.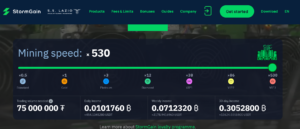 Stormgain Broker – The Verdict
The bottom line here is that if you need an all in one cryptocurrency trading platform, broker, exchange, signals provider, and wallet, the Stormgain is the place to be. If you sign up with this broker, you will never need another cryptocurrency service again.