Learn from the Best with Mentor Box
If you are just getting into Forex or stock market trading something you want to check out his Mentor Box. To be precise, there is the Income Mentor Box Day Trading Academy and the Stock Trading Mentor Box Academy. Both of these are high quality trading schools designed for specific markets.
Now, what is important to note here is that being a trader is of course a very difficult thing. Sure, if you were looking on from the outside, it may look easy. You see people trading all the time and making money. Easy enough, right? Well, not really. The fact of the matter is that it takes patience, skill, practice and a whole lot of knowledge to be successful trader.
For this reason, most people recommend that you get some sort of trading education before you really get into it. What we're here to do today is talk about the education that you can receive from Mentor Box, both from the stock market and the Forex trading academies. We want to take a closer look at who created these academies, what you will learn within them, how much they cost, and how you can benefit from them. Let's get to it and talk about how you can learn from the best with Mentor Box.
Who Created Mentor Box?
Before we talk about both of the Mentor Box Academies that you can benefit from, we want to take a look at the person behind these academies. The man behind both of these academies is Andrew A. Now you might know Andrew from his YouTube trading channel known as Andrews Trading Channel. This is a free trading educational resource that allows traders to review various trading strategies, tips and much more, all free of cost.
Andrew has been a full time trader for well over a decade by now and he makes all of his income doing so. Both this man spends a few hours a day trading and the rest of his time having a great day. In other words, Andrew knows what he is doing and he is an extremely proficient trader who is versatile in the stock market, the cryptocurrency market, the forex market, and more.
What is also worth noting is that Andrew is a fantastic teacher. He's not one of those self-proclaimed trading gurus that doesn't know what single thing about teaching others. In our opinion, is one of the most approachable people out there, and even better is the fact that he knows how to teach these materials in ways that are easy for beginners to understand. Remember folks, mentor box academies are designed to help beginners learn how to become proficient traders. When it comes down to it, there's really no one we would rather be learning from than Andrew.
The Income Mentor Box Day Trading Academy
The Income Mentor Box Day Trading Academy has been around for a few years now, and in that time it has managed to garner a reputation of being one of the most effective, affordable, and beginner friendly Forex day trading schools out there.
When it comes down to it, you won't find more educational value anywhere else. The fact of the matter is that here you get 50+ full-length trading lessons. All lessons are personally lead and taught by Andrew himself, and all lessons are backed up with step by step video tutorials.
The course starts out with all of the easy stuff, and then progresses onto the more complex aspects of trading. What is also worth noting here is that a membership in Income Mentor Box is very affordable. It's one of the most affordable trading schools out there, but make no mistake about it, because it definitely qualifies as a comprehensive and complete Forex trading curriculum.
CLICK BELOW TO JOIN INCOME MENTOR BOX AND START MAKING REAL PROFITS! 
A Free Forex Signals Service
It is also worth noting that your membership in Income Mentor Box also comes with a free, which in this case is the IMB Forex signals service. This is a service run on the Telegram messenger app, one that provides you with up to a dozen accurate and actionable Forex signals with a win rate of over 90%. All signals come complete with entry and exit points, so all you have to do is copy and paste the signals into your trading platform and watch as your trades accumulate easy money.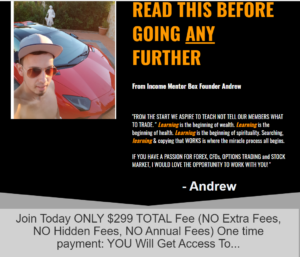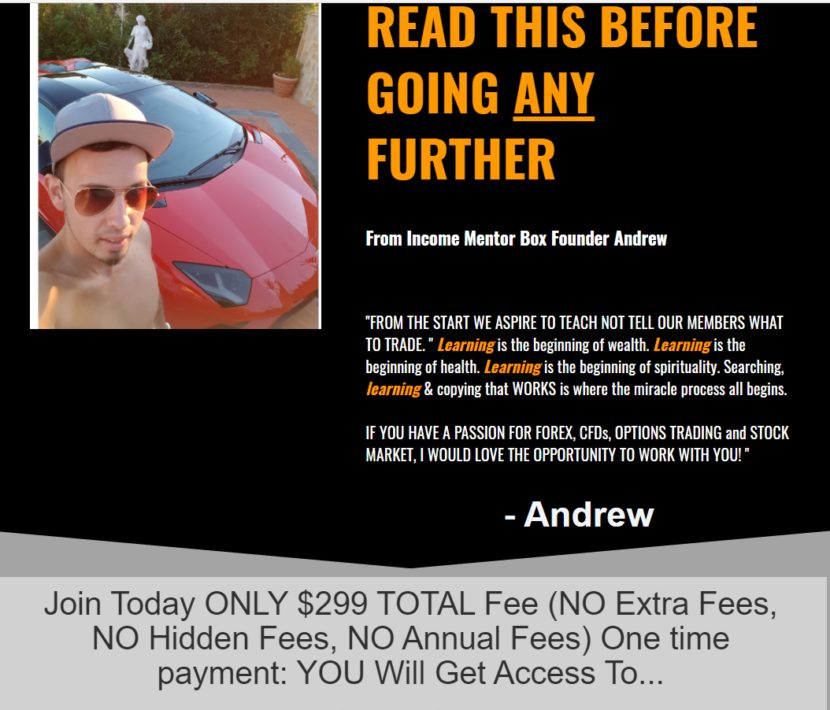 The Stock Trading Mentor Box Academy
If you would rather learn to trade the stock market instead of Forex, then we recommend checking out Stock Trading Mentor Box. More or less, this course is the same as the Forex course we talked about above, with the main difference of course being that this one is designed for people who want to become professional and profitable stock market traders. It has the same great teacher, the same easy to follow format, and yes, there is a freebie included here as well.


The Free UPSI Indicator
The freebie that you get with Stock Trading Mentor Box is a brand-new profit scalping indicator, the UPSI or the Ultimate Profit Scalping Indicator. This indicator is designed for people who want to place short-term scalping trades, and yes, it can be used for stocks, Forex, cryptocurrencies, and everything in between. Now, you can purchase the indicator separately without joining Mentor Box, but it's actually much more cost effective to get the combination bundle.
Learning to Trade Like a Pro with Mentor Box – Final Thoughts
The bottom line here is that if you want to become a profitable Forex trader, then you should check out the income Mentor Box Day Trading Academy. On that same note, if you want to become a proficient stock market trader and the stock market Mentor Box Academy is something you should check out.
All that being said, if you'd rather not pay money for an education and you were fine with just some basic tips and strategies, then you should check out Andrew's trading channel on YouTube. Whatever the case may be, as long as you know that you do need a good education and a good base of knowledge to become a profitable trader, that's what's important.
CLICK ON IMAGE BELOW TO JOIN