Crypto Mentor Box Signals Service
As you know, here at the Income Mentor Box Day Trading Academy, we are all about teaching people how to day trade Forex, stocks, securities, cryptocurrencies and more. With our academy, you can learn to day trade like a pro from home, so you never have to work a 9 to 5 job again. However, we do so much more than that, with our brand new Crypto Mentor Box signals service being one of those new endeavours.
Now, as you might already know, we do already host an Income Mentor Box Forex signals group. This Forex signals group has enjoyed great success in the few months that is has been available to the public. Day traders have been able to make massive profits while doing little to no work at all. Well, the people have been demanding that we make a signals service for cryptocurrencies, hence our Crypto Mentor Box cryptocurrencies signals service. Let's provide you with some details!
Crypto Mentor Box Cryptocurrency Signals Service Coming Soon!
The point we want to make here is that next week we are about to release Crypto Mentor Box, a great cryptocurrency signals service that will allow you to trade without having to do any of the heavy lifting yourself. If you are sick and tired of attempting to trade cryptocurrencies, without success, and with failure, you have come to the right place. Let's go over what this new Crypto Mentor Box signals service is all about.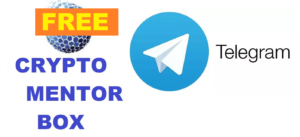 Keep in mind that our new cryptocurrency signals service is set to be released next week. As of now, it is not yet available.
Crypto Mentor Box signals service will be hosted on the trusted Telegram messaging app. This app is totally free to use and download, and it works fine on all major systems and devices.
Our new cryptocurrency signals service is going to be 100% free to use. This means that anybody can access Crypto Mentor Box to get our trusted cryptocurrency trading signals totally free of cost.
Our new Income Mentor Box cryptocurrency provision service will provide a certain number of cryptocurrency trading signals on a daily basis. These signals are brand new, always fresh and up to date, and 100% accurate. Our Forex signals service has seen great success, and there is no reason to think that Crypto Mentor Box will be any different.
The beauty here is that all of the hard work and heavy lifting has been done for you. All of the technical analysis, fundamental analysis, and news research is performed for you. All you have to do is take the signals when they come, paste them into your trading platform of choice, and watch as the profits accumulate.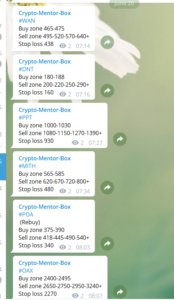 Crypto Mentor Box – NEXT WEEK!
So, please stay tuned guys, because our stellar Crypto Mentor Box signals service will be officially available starting next week. This is going to be by far the easiest way to get and trade cryptocurrency signals to put money in the bank on a daily basis!
LEARN TO DAY TRADE LIKE A PRO WITH INCOME MENTOR BOX!