The Vena System Software Scam Review
OFFICIAL SCAM SITE: venasystems.co
The Vena System app is a relatively new trading app that became available to the public just a few weeks ago and it's a huge scam that you need to be aware of. Mark Vena is the big scammer behind this monumental scheme and he does his very best to trick you into investing your money with this ultra-bogus trading program. He tells us a bunch of ridiculous claims like that Vena System software can generate up to 5,000 dollars per day, a truly preposterous amount of profits.
While trading in the world of binary options can indeed be highly profitable, that is definitely not the case if you choose to use a junk piece of programming such as The Vena System trading program. There is not one single reliable aspect of this trading program and at the end of the day its only goal is to steal your investment. You can't trust Mark Vena and you definitely cannot trust this horrible new autotrader.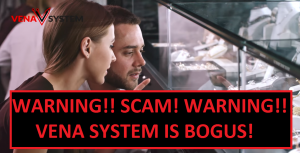 What Does The Vena System Do?
This is a very important question to ask when it comes to any trading program, one which we do not have the answer to. The only thing that Mark tells us in the Vena System presentation video is that his program uses a highly sophisticated algorithm to execute trades. However he neglects to inform us how it works, what signals it trades in, how the algorithm was programmed, or what trading strategies it uses to pick winning trades.
These are all crucial aspects of any good trading program, aspects that we definitely want to know about. We don't know about you, but we are not about to invest money in a program when we don't have a clue as to how it works or what it does. In our honest opinion, Vena System software probably does not do anything at all, and if it does use some kind of sophisticated algorithm, its only purpose would be to rob you of your investment.
Vena System's Bad Brokers
Yet another aspect of the Vena System trading program that we are not at all happy about is how they clearly use fraudulent brokers to handle all of the money. We did some digging around and we realized that this program only uses brokers which are located in unregulated countries with minimal financial laws.
This would explain why people from around the world have been complaining about disappearing money. The brokers don't face any consequences in these financial save havens for stealing your money, thus, they have the power to take your investment and do whatever they want with it. This is not the kind of program that we would ever invest in. Click here to see what a good broker looks like.
The Vena System's Creation Date
The next thing that stands out as being clearly bogus about this junk trading system is the supposed creation date of it. Mark Vena, in the presentation video, tells us that his program has been up and running for a couple years now, and that he and a special group of testers has been using it to generate millions upon millions of dollars in profits.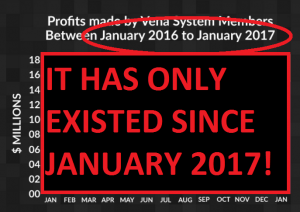 However we were not so sure about this so we decided to do an easy domain registry check. Well guess what, the Vena System website has only been up and running since the middle of January 2017. It is simply impossible for anyone including Mark and his team to have been using this program for the past few years when it has only existed for a little over a month. Up until this point everything including the registration date is nothing more than a complete lie.
Does The Vena System App Make A Profit?
The long story short is that Vena System software defintiely does not make you any money, or at least not nearly as much as we are told it can make. The simple fact of the matter is that there is no trading program in the world that can generate 5,000 dollars per day.
The bottom line is that it is simply impossible for any automated trading system to generate that kind of money in one single day, especially on such a small investment of 250 dollars; that would be something like a 2,000 percent profit margin. In reality, the best automated trading systems could make around 800 dollars' worth of profits on a 250 dollar investment, not $5,000.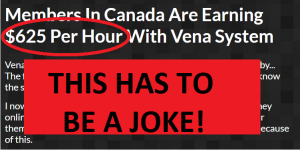 Also, the claim of being totally risk free is just as bogus as the profits promise itself. Risk is inherent in the market and there is nothing that Vena System software can do about that. Loss is a part of life and it's a part of binary trading.
Can We Trust Mark Vena?
One thing that we know for certain is that we cannot trust Mark Vena with any of our money, and we know that because we are sure that his name is not actually Mark Vena. He claims to be some big shot investor who decided to create his own trading program, plus he says that he has been employed at many world renowned financial institutions.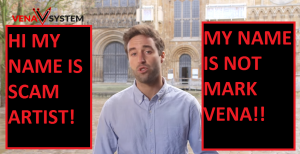 However when we did some research about him, we could not find any evidence to corroborate his story. There is absolutely zero evidence which would confirm that Mark really is who he says he is. There are no records of him attending school, no records of employment, no biographical info, no social media presence, and no search results other than those linked with this Vena System scam. We would definitely not trust mark, mainly because we have no idea who he really is.
The Vena System Scam Review Conclusion
As you can see, there is no good reason to trust Mark or the anonymous crooks behind the Vena System app, which also means that there is no reason to trust the program itself. Everything about Vena System software is a complete lie. It won't generate any money for you and that is the number one factor you need to take into consideration. This is all just one big lie meant to rob you of your money so you need to stay away from it at all costs.
If you actually want to trade with a great automated trading program, we would highly recommend trying out Penny Millionaire. Penny Millionaire has been vigorously tested by our group of expert traders, and depending on market volatility it can have an ITM rate as high as 85% with profits of 800 dollars per day.
BINARY OPTIONS ARMY: PENNY MILLIONAIRE REVIEW

Thank you very much for reading this detailed scam review. Subscribe to our blog in order to be fully protected and to be up to date with all binary options services out there. Additionally please share and follow us on Facebook, Twitter, Google+ and Pinterest. See you next time!