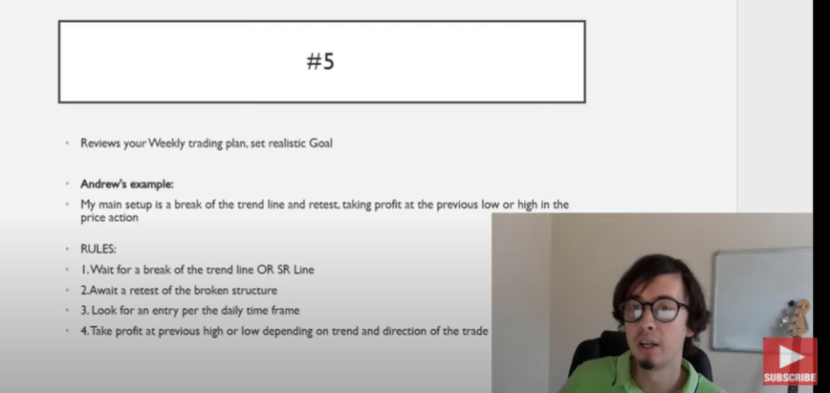 Making a Daily Forex Watchlist
If you are a beginner in the world of Forex trading, you might be having a bit of trouble making money. Realistically, if you are totally new to FX trading, and you don't have much of a knowledge base, chances are that you are actually losing money. However, even as a total newbie, something that you can do in order to increase your chances of success is to make a daily Forex watchlist.
The fact of the matter is that FX trading is not easy, not in the least. It takes the right knowledge and patience, plus the right timing is very important as well. Sure, plenty of traders, particularly the seasoned veterans, will trade without a so called daily watchlist. However, the most successful of traders do use a daily Forex watchlist.
Now, this is nothing too groundbreaking or revolutionary. Realistically, it is nothing more than a conglomerate of information, a plan of what you will trade throughout the day. People, a lot of what Forex trading is all about is planning, strategy, and analysis. If you take a few minutes in the morning to put together a daily Forex watchlist, you can then simply follow it and execute your strategy.
Today, we are here to talk about the five most important components that go into making a daily Forex watchlist. There are five main components that your watchlist needs to include. Now, these are nothing overly special on their own. However, when the five components that we are about to discuss come together, they provide you with the required foundation for a successful day of currency trading.
Analyze the Past Week & Look for Opportunities
The first thing that you should do when creating your daily Forex watchlist is to analyze price action of the past week in regard to certain currency pairs. You should take a close look at the one week timeframe to analyze what happened in the last week.
You want to look out for all of the basics like price range, price direction, trend, reversals, and all of that other fun stuff too.
Knowing what the price of a currency did in the past may reveal useful information about future movement. You may even look at a one month timeframe, although for these purposes, looking back one week should be enough. This way, you can get a good idea of what the market is doing and what specific Forex pairs that you might want to focus on.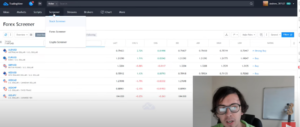 Pay Attention to Fundamental News for Your Daily Forex Watchlist
The second component of your daily Forex watchlist should be fundamental news. In fact, this is perhaps one of the most important components of all. The fact of the matter is that politics, economics, industry, and everything in between, it's all related.
Therefore, you want to pay close attention to fundamental news releases. Specifically, we would recommend going to investing.com, and checking out their economic calendar. Here, you will see news releases associated with national currencies.
For instance, you might see a news release happening at 1 pm for the USD. Now, what you are really looking for here is Three Bull News, which signals a major news release that will have a big impact on the economy.
As a newbie trader, the important thing to know here is that you never want to trade during Three Bull News with the associated currency. Using our above example, this would mean that when 1 pm hits, you don't want any open trades with the USD, and you also don't want to open more positions with the USD until one to two hours after that news release.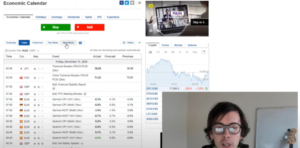 Set Up an Alert System
The third component of your daily Forex checklist should be your alert system. An alert system, such as the free ones that come with MetaTrader and Tradingview.com, will alert you of certain events. In other words, you could set an alert so that if the price of the EUR/USD hits a certain point, you get notified.
This helps make life much easier because it means not constantly having to pay attention to various Forex currency pairs. Simply set up your alerts as needed (which means that you need to know at which price you would want to trade at) and wait for the alert. Once the alert sounds, you can then place your trade.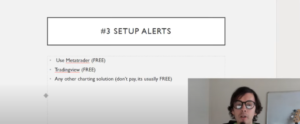 Choose Your Currency Pairs for Your Daily Forex Watchlist
The next thing that you need to do is to pick the specific currency pairs that you are going to focus on. This is very important for creating a coherent daily Forex watchlist. Now, there are of course hundreds of currency pairs, but there are only seven that you as a newbie should be dealing with.
Five of the most major and safest pairs to trade with are EUR/USD, USD/CAD, USD/JPY, GBP/USD, and AUD/USD, with USD/CHF being another big one. Folks, it's all about quality, not quantity, so focus your efforts on a few relatively safe pairs, and then go from there.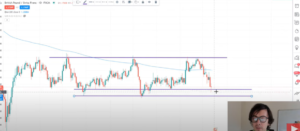 Review the Plan & Set Realistic Goals
The final component of your daily Forex watchlist is your own plan and goals. Simply put, you need to hammer out a solid trading plan and strategy, something proven to work, something that you feel confident in. Moreover, it's fine to set goals for yourself, but make sure that they are realistic. If this is your first day trading, don't expect to start raking in cash immediately.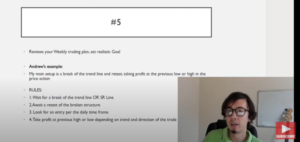 Your Daily Forex Watchlist – Final Thoughts
As you can see, by themselves, the five components of a good daily Forex watchlist are not anything super cool or anything that people have not seen before. However, when these components come together, they form a solid daily Forex checklist.
In other words, this is your analysis and your trading plan for the day. It's your game plan that you will use to place all of your trades, the rules you will follow, and so on and so forth.
All of that being said, if you don't have any prior experience with Forex trading, we recommend seeking a decent education. It definitely helps if you have an education on the matter, so you at least understand the most basic concepts.
CLICK BELOW TO JOIN INCOME MENTOR BOX AND START MAKING REAL PROFITS!