The Income Mentor Box Academy
OFFICIAL SITE: INCOMEMENTORBOX.COM
If you are sick and tired of losing trades and hemorrhaging money, it might be time to check out a trading school such as the Income Mentor Box Day Trading Academy. The fact of the matter is that day trading is not easy. This applies to all forms of trading including Forex, stocks, crypto, indices, and more. Simply put, trading is risky and it's not something you can just do successfully one day.
It takes a whole lot of skill, knowledge, patience, and experience to trade something like Forex, and actually make a profit doing so. As a newbie trader, you might be tempted to just take your chances and risk it all. However, this is not recommended, not when there are great educational resources around such as the Income Mentor Box Day Trading Academy.
This is a world class day trading school that consists of a full length and totally comprehensive curriculum. This is all about helping aspiring day traders hone their skillset and knowledge base, so you can all become professional and profitable traders. Today we want to take a closer look at the Income Mentor Box Academy, the man in charge of it, and what it can do for you.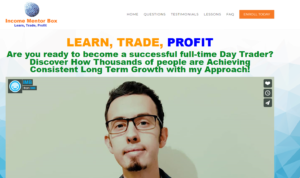 Income Mentor Box Day Trading Academy
Alright, so right now we want to take a much closer look at this Income Mentor Box Day Trading Academy and what it's all about.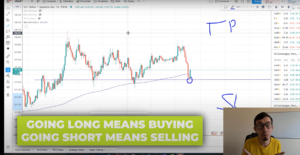 What is it?
In simplest terms, think of this as an online school for aspiring day traders. The whole point of Income Mentor Box is to help teach you how to trade the right way, to trade profitably, and efficiently.
This is a fully comprehensive trading school that will teach you all about Forex, stocks, crypto, and more. The end goal of this school is to help you quit your day job, to help you become a profitable and sustainable trader from home.
What does it Offer?
The Income Mentor Box Day Trading Academy offers a variety of resources to help teach you the ins and outs of day trading, particularly Forex, but other markets too.
Here, you will get access to over 55 full length lessons which are spread out across 5 training modules. Each lesson is full length, usually around 15 to 30 minutes long, and each lesson is truly comprehensive too. Each lesson focuses on a specific aspect of day trading.
It starts out with the basics and then slowly moves through the more complex aspects. Here you will learn all about basic terminology, functions, oscillators, indicators, trading strategies, and everything in between.
In fact, there is more as well, because when you join Income Mentor Box, you will also gain access to the IMB Forex signals service. Here, you will get up to 12 daily Forex signals provided to you. All signals come complete with all of the necessary info to place trades. You simply have to copy and paste the signals into your broker or trading platform, and watch as the profits roll in.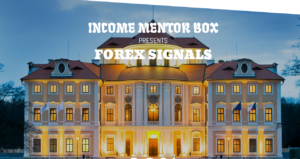 Who is it for?
The Income Mentor Box Day Trading Academy is ideal for all people. Now, sure, in theory it is designed for newbies and greenhorns, for people who don't have any or much trading experience. The whole point here is that all IMB course materials are designed to be super easy to understand.
All lessons and materials are designed in such a way so that even newbies with zero experience can easily grasp all of the materials. It's all about helping you learn how to be a profitable day trader in as easy a way and in as little time as humanly possible.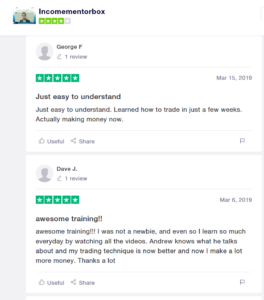 Who is the Mentor?
Something you might be wondering about Income Mentor Box is who the mentor himself is. His name is Andrew. A. He has been engaged in the world of day trading in one form or another for the past decade, or even longer actually. He does not claim to be some sort of guru, as he is quite humble, but the fact of the matter is that this guy knows what he is talking about.
There is really nobody who we would rather learn about day trading from than him. Andrew is also known from his YouTube Channel (Andrew's Trading Channel), as well as from Andrew's Trading Channel on Telegram. He is knowledge, he is always ready to help, and he makes learning about Forex and other forms of trading quite fun too.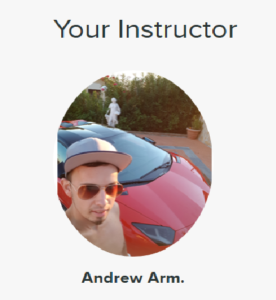 What's the Cost?
In case you are wondering about the cost of the Income Mentor Box Day Trading Academy, it comes in at a cool $299. People, $299 might seem like a whole lot of money, but when compared to other day trading schools of equal quality, it's a fraction of the cost.
Other day trading schools can cost literally thousands of dollars. Also, keep in mind that the payment for IMB is onetime payment with absolutely no additional or recurring costs. When you join, you become a member for life with lifetime access to all course content.
Income Mentor Box, Andrew, & More
Something that we do also want to touch on here is that if you are looking for a great day trading education, lots of tips, up to date news, profitable strategies, and more, we would recommend checking out Andrew's Telegram Trading Channel. Here is what you get with Andrew's Telegram Trading Channel.
Daily Analytics

Information about entry levels and stop loss for trading

General trading education

Free technical analysis info

Free fundamental analysis info

Andrew's best trading strategies (video formats)

Alerts for Andrew's live streams

1 to 2 free trading signals per day

Info about stocks, Forex, crypto, commodities, and more
CLICK ON IMAGE TO GO TO ANDREW'S TRADING CHANNEL 
Income Mentor Box & More – Final Thoughts
The bottom line is that if you need a fully comprehensive day trading education that is easy to understand and cost effective, Income Mentor Box is the place to be. Also, check out Andrew's Trading Channel on YouTube and Telegram for even more trading tips, strategies, news, and more.
CLICK BELOW TO JOIN INCOME MENTOR BOX AND START MAKING REAL PROFITS!