XTrade Review – A Broker For All
If you need a great CFD, stock, FX, commodities, indices, and even a crypto broker, XTrade is definitely one that you want to keep your eye on. XTrade is one of the best online CFD brokerages out there right now. Using it comes with many benefits such as a user friendly trading platform, mobile trading, no commissions, ad a great standard account package. Let's continue with our XTrade review and inform you on everything there is to know about this particular broker.

XTrade Company Info & Regulation
XTrade has been around since 2010. We do think that it is important to note that they have been around for almost a decade. It goes to show that they have passed the test of longevity. They are not some scam broker that disappears into thin air after a couple of months. The XTrade broker has been around for over 8 years and is still going very strong. It was founded by industry professionals, financial analyists, and world leading traders.
Currently, this broker is owned by Xtrade Au Pty Ltd, an Australian based company. Their address is Level 1 39-41 Chandos Street, St Leonards, NSW 2065, Australia. Their phone number is +357 25 030 742.
The actual company itself, XTrade International LTD has the following details. It is regulated and licensed by the International Financial Services Commission (IFSC/60/383/TS/17), with the address being Cork Street, No. 5, Belize City, Belize, with the phone number being 1800 017 5700. The XTrade broker is in fact also licensed and regulated by CySEC, ASiC, and MiFID.

We think that there is more than enough information here, real information, to prove that this broker is in fact legit. After all, this broker does have clients in 140 countries across the world, millions of satisfied clients across 5 continents.
The XTrade Platform
As is the case with many modern online brokers, XTrade has indeed developed its own proprietary trading platform for CFD trading. What is really nice about this particular platform is that it allows for one touch trading. It is super user friendly and allows you to select assets, positions, history, tools, and more with the single click of a button.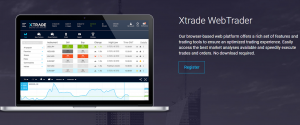 You don't have to download anything complex, plus there is a pretty killer mobile trading app in place here too. Yes, that is right, XTrade allows you to trade on your mobile device with ease. The mobile app is 100% functional and responsive, so there should be no issues there. This mobile trading works on both tablets and phones, and both with Android and iOS.

Keep in mind that MetaTrader 4 and WebTrader are both available for use here too. The fact that you can choose from so many different trading platforms to use in conjunction with this broker is pretty neat.
XTrade Account Options
Something that we want to note right off the bat is that there are no withdrawal or deposit fees here, which is pretty nice. At the same time, this broker is only compensated through the bid/ask spread of each trade, but it does not actually charge commissions. This means that no matter what account type you open, most of the profits go into your pocket.
The XTrade broker does have 4 different account types available. The most basic packages are suitable for beginners, plus there are also higher up packages best used by professional full time traders. Keep in mind that all of the accounts also have fixed spreads, of which vary depending on the specific asset in question.
The accounts available here include a standard account, a premium account, a platinum account, and a VIP account. Respectively, they have $200, $1,000, $5,000, and $25,000 minimum deposits required for each account level.

XTrade Available Trading Assets
What we find to be extremely impressive about the XTrade broker is that it has tons of different asset types that you can trade with. This includes indices, commodities, CFD, shares, Forex, Cryptocurrencies, ETF, and more. As you can see, there are not many online brokers out there which offer such a wide variety of assets to trade with. There are many assets to trade with within these categories as well, this allowing for a whole lot of choice. This truly is a one stop shop broker for all of your trading needs.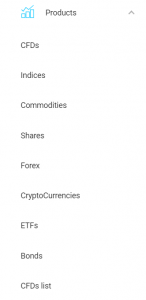 XTrade Deposits & Withdrawals
What is also nice about this broker is that it allows for payments and withdrawals including over 40 different methods. Once again, the amount of choice here is simply unrivalled by any other broker out there right now.
You can choose from your standard credit and debit, to wire transfers, and all kinds of personal online transfer methods. Paypal, AliPay, MegaTransfer, DineroMail, Skrill, WebMoney, and literally dozens of others are accepted here. These can be used to make deposits as well as withdrawals. Keep in mind that the method which you use to deposit funds here will be the same method you must use to make withdrawals.
XTrade Customer Support
When it comes to customer support, XTrade does feature pretty good support. There are customer service reps available 24 hours per day, throughout the business week, but not on the weekend. You can contact customer support via phone, live chat, or email. The website itself supports 16 different languages, and if you want to talk to a customer rep in person, they speak 6 languages.
What is also cool is that XTrade comes with tons of educational features which help you to trade easier. If you have an issue with the broker or the platforms, either the service reps or the educational tools should be able to help you solve your problems.
XTrade Review – Conclusion
All in all, the XTrade online broker seems to be one of the most reliable and reputable ones around. It features account packages for all levels of traders, and costs are absolutely minimal. In terms of asset choices, platform options, and customer service, you really could not be any better off.

Thank you very much for reading this detailed  review. Subscribe to our blog in order to be fully protected and to be up to date with all binary options services out there. Additionally please share and follow us on Facebook, Twitter, Google+ and Pinterest. See you next time!