Using The ATR Indicator For WINS!
If you are tired of losing trades and you need to find a great way to trade Forex and set your stop loss levels, this ATR indicator strategy is one you need to take a look at. Below, we are going to outline how to use the ATR indicator to set your stop loss levels. We also have a live profit session to show you. This is where Andrew, from our own Income Mentor Box Day Trading Academy, shows you his live trades and profits, all thanks to this ATR indicator.
What Is The ATR Indicator?
Ok, so before we really get into the meat and potatoes of today's ATR indicator article, it is probably wise if you know what this ATR indicator actually is and how it functions. Ok, so ATR stands for Average True Range. The Average True Range or ATR indicator is a measure of volatility. If you do not know, volatility is a measure of the strength of the price action. In other words, it measures how volatile an asset such as a currency pairing is, in terms of how far the price may move in either direction in any given time.
The ATR indicator is indeed quite important and is often overlooked when it comes to analyzing and determining market direction and asset volatility. Although it is often overlooked, real trading professional know just how important it really is, and it has been in use for several decades now to determine volatility and price action. The ATR indicator can be used in order to create a full trading strategy, or it can also be used to just set entry and exit signals and levels too.
How To Use The ATR Indicator To Set Stop Loss
Ok, so now that we have figured out what exactly this ATR indicator is, we want to talk about how you can use it in order to win trades. In this case, we want to talk specifically about stop loss levels and how to use the ATR indicator in order to determine the stop loss level for any given trading position which you may place. Right now we are going to go through a step by step process on doing this in as easy a way as possible. Let's get right to it and teach you how to use the ATR indicator in order to place winning trades and to set the proper stop loss levels.
First things first, go to your trading platform of choice. Here you need to find the indicators tab. Look for the ATR indicator, find it, and select it. Every charting solution and trading platform should come with this.
As you can see, it just looks like one single line, which you can modify as you choose. Many traders use the ATR indicator by setting the level to 20. However, by default, the level is usually set to 14, which is actually based on days. You can choose the color and the style of line based on your preferences.
So, when you are making a trade, look at your charts and analyze the price of the asset in question, and examine the ATR indicator at the same time. You are looking for the ATR value, and you are looking for an ideal resistance level too.
Now you need to find your stop loss by examining what the ATR indicator is telling you. You want to take the value of the ATR indicator and multiply it by 2. This is what your stop loss level will be for a certain asset at a certain time. You want to add this value (ATR x 2) to the market price, and this is what your stop loss will be.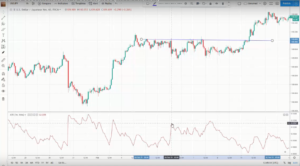 Yes, we here at the Income Mentor Box Day Trading Academy know that this whole ATR indicator concept is a bit difficult to understand, especially in words without any visual reference. But hey, this is why our leader, Andrew, has taken it upon himself to make an ATR indicator trading video. If you take a look at the video, Andrew outlines all of these steps in details and provides you with several live examples. Once you see it live in action, you should be able to grasp the concept quite quickly.
ATR Indicator Live Trading Results
Of course, you don't want to just take our word that this ATR indicator and stop loss strategy works. Here at the Income Mentor Box Day Trading Academy, Andrew always provides you with live trading updates and results, with trades being placed, going on, and being closed in real time.
We are here to show you that our strategies actually work, and that you can do the same to make good money through trading. Like we always say here, the proof is in the profits. If you take a look at the below video, you will set that Andrew placed a very good trade using the ATR indicator method which we outlined above.
The results which Andrew were able to achieve were pretty good no doubt. Using this same trading strategy which we outlined above, Andrew was able to make a profit of well over 300 Euros with one single USD/JYP trade. Guys, if you use this ATR indicator strategy, there is no reason why you cannot make a few hundred Euros profit in a single trade just like this. Also, keep in mind that this trade was only open for roughly 2 hours. Making over 300 Euros in just 2 hours is definitely impressive!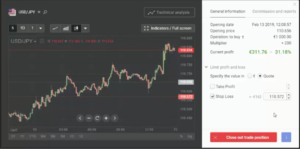 Income Mentor Box & The ATR Indicator – Final Thoughts
While this strategy might be a bit complex to understand at first, we do think that Andrew did a great job at explaining it in an easy to grasp way. Yeah, it might take a couple rounds of practice, but there is no reason why you should not be able to achieve the same results as Andrew here.
If you want to become a professional day trader and learn how to profit through Forex, indices, stock, and commodities trading, our Income Mentor Box Day Trading Academy is undoubtedly the best place to be. For the low onetime payment of $299, you will gain full access to all course materials. It's time to quit your day job and become a professional day trader from home, a highly profitable one!